"There comes a time when two brainless factions spill blood"
Noobs vs Zombies Realish: Official Wiki
Welcome to the official Noobs vs Zombies Realish Wiki! This will contain all the information on the Roblox game: Noobs vs Zombies: Realish
Wiki's Purpose
This is a wiki to get additional information on anything in the game, Noobs vs Zombies Realish. This info ranges from Classes, Weapons, Maps, NPCs, Vehicles, and more! The information provided on this website may / may-not be entirely accurate as it is generally powered by fans.
Realish Lore
After the events of Noobs vs Zombies Tycoon, the noobs and zombies advanced the war even further by developing their weapons, gadgets, and armor. The noobs later formed an alliance with the guests from the moon's surface, and the zombies did the same with the chaotic zombies from the earth's core. The chaotic zombies and guests lend some of their tech to their allies but not much. Neither side has gained the advantage, and your job is to make that difference.
Rules (Top 3)
No harassing readers or staff.
Use of profanity should be limited if not avoided.
Edits to pages should be checked grammar mistakes, discrepancies, and errors.
For more rules, please visit this page here.
Dedicated Editors / Official Staff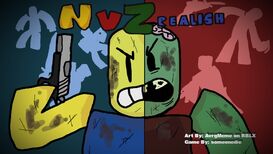 These are editors that dedicate their time to making the Wikia.
DravenLangRawr (Dedicated Writer/ Official Admin)
DarksideTheLOL (Content Moderator/ Dedicated Writer)
AtypicalBarrettUser (Content Moderator)
WiredFoxy1987 (Content Moderator)
Discord (Unoffical Fanon)
Latest Activity
Community content is available under
CC-BY-SA
unless otherwise noted.